Panelboards – Marking and Application Guide
December 2021
PREFACE
Panelboards are no longer a simple assembly of switches, fuses and circuit breakers for single ampere and voltage systems. Today, there are panelboards for a variety of electrical supply systems with overcurrent protections for many short-circuit capabilities. This has resulted in a complex marking system.
UL developed the Panelboard Marking Guide for code authorities, electric utilities, contractors, installers, users, designers, and other interested parties to aid in understanding panelboards and the applicable codes and standards in order to facilitate a reasonably safe and code-compliant installation of panelboards used in ordinary locations, rated 1000 volts or less. These panelboards are intended to be installed in accordance with the National Electrical Code® (NEC ®) and their Certification (Listing). These markings are required by UL 67, and are part of the Certification (Listing).
The term "panelboard" used in this guide also applies to modular panelboards unless otherwise noted.
The Table of Contents links to the main headings. The Index gives an alphabetical list of specific items and the section numbers where information about them can be found. Marking and application guides are available for Deadfront Switchboards and Molded Case Circuit Breakers at www.ul.com/markingguides.
Complete information regarding the provision of markings and instructions for these panelboards is contained in the Standard for Panelboards, UL 67. Unless otherwise noted, references to the National Electrical Code ® (NEC) are to the 2020 edition.
UL Marking and Application Guides are updated as necessary due to new product development, changes in the codes, or the need for clarification. To confirm the current status of any UL Marking Guide, please consult the Code Authorities page of the UL Web Site at www.ul.com/codeauthorities or www.ul.com/markingguides.
Your comments or suggestions are welcome and appreciated. They should be sent to:
UL's Codes and Regulatory Services Department
ulregulatoryservices@ul.com
TABLE OF CONTENTS
INTRODUCTION
USE OF THIS GUIDE
This guide is intended to assist code authorities, designers, and installers in determining the suitability of panelboards in a particular installation and use, and to address concerns related to fire, shock, and mechanical hazards.
Products are Certified, Listed or Classified by UL under an appropriate product category. A four-letter code (shown in parenthesis) following every category title in this guide is the UL product category code designation.
Each UL product category code provides a direct link to the guide information for the product category. The guide information includes the scope of the products covered, information relating to limitations or special conditions applying to the product, the requirements used for the investigation of the products, installation and use information, and information on product markings and the UL Mark to be used on the product. Additional information on marking requirements can be found in the guide information for Panelboards (QEUY) and Modular Panelboards (QFOF), which is located on UL Product iQ™ at UL.com/piq.
The product markings identified in this Guide do not include every possible marking that could be provided either on a product or in its installation or operation instructions. The purpose of this Guide is to provide you with an indication of the type of text and location of markings that address features that may be critical in determining if a product is certified and / or if it is installed correctly. Refer to the specific Guide Information for the product category for additional marking information.
The numbering for code sections used in this document may change as the specific code is updated.
INFORMATION ON CERTIFICATION, LISTING AND CLASSIFICATION
Most codes and regulations require the certification of power distribution equipment to applicable safety-related standards. They also may require this equipment to be certified to energy performance standards as well. Products that are certified to safety-related standards have been evaluated with regard to all reasonably foreseeable safety-related hazards, including fire, electrical shock and mechanical hazards. Such products are termed "UL Listed." Products that are certified to a limited range of hazards, or for use under specific conditions are termed "UL Classified." Alternatively, any of these products can be "UL Certified" and bear the UL Certification Mark.
It is important to distinguish the difference between "UL Listed" and "UL Classified" and the relation these terms have with the term "listed," as used in various codes. The term "listed" in the codes generally indicates that the product is required to be evaluated in accordance with the appropriate standard(s) by an independent third party certification organization such as UL. The term "listed" in the codes should not be confused with the term "UL Listed," as explained above. It is important to recognize that not all certification agencies make this distinction in their certification services.
INFORMATION ON UL MARKS
There are several types of UL Marks that can be found on power distribution equipment. General information on each of these Marks is provided below. Each has its own specific meaning and significance. The only way to determine if a product has been certified by UL is to look for the UL Mark on the product itself.
The UL Mark on a product means that UL has tested and evaluated representative samples of that product and determined that they meet the requirements in the applicable standard(s). Under a variety of UL programs, certified products are periodically checked by UL at the manufacturing facility to determine that they continue to comply with the standard(s).
The UL Marks may only be used on, or in connection with products certified by UL, and under the terms of a written agreement between the manufacturer and UL.
UL CERTIFIED PRODUCTS
Launched in mid-2013, the enhanced UL Certified Mark can be used on both UL Listed and Classified products and is intended to make it easier and simpler for stakeholders to understand the scope of UL's certifications of a specific product. The enhanced UL Certified Mark makes it possible to bundle multiple UL certifications for multiple geographies into a single Mark design. Today, this mark is used for products certified to U.S., Canadian, European and Japanese requirements. This Mark utilizes a unique identifier to enable stakeholders to search UL Product iQ™ at UL.com/piq to quickly to review detailed certification information.
All currently existing versions of UL's Listing and Classification Marks remain valid and should continue to be accepted as an indication of certification.
UL expects the transition to the enhanced Mark to happen over time, so you may not see it in the immediate future. For more information on this important development, please go to www.ul.com/markshub > Resources. Access to the Marks Hub is free and open to all regulators, but registration to use it is required.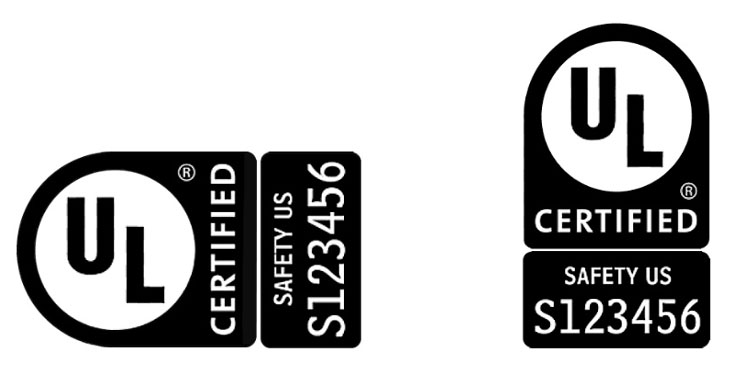 UL Listing Mark
This is one of the most common UL Marks. If a product carries this Mark, it means UL found that representative samples of this product met UL's safety requirements. These requirements are primarily based on UL's own published Standards for Safety, or other recognized third party standards. The UL Listed Mark includes the UL symbol, the word "Listed," the product or category name, and a control number assigned by UL.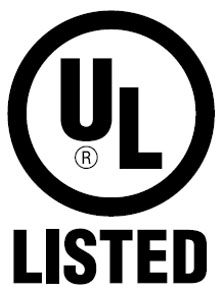 UL Classification Mark
This Mark appears on representative samples of products that UL has evaluated but only with respect to specific properties, a limited range of hazards, or suitability for use under limited or special conditions. The UL Classified Mark includes the UL symbol, the word "Classified," a statement of the scope of evaluation, the product or category name, and a control number assigned by UL.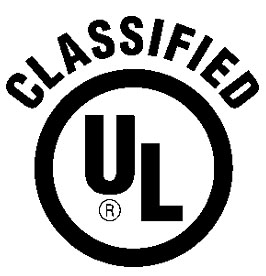 Field Evaluations
You may encounter situations in which you are unable to determine if a product has been listed by a third-party organization. Or in other situations you might encounter a product bearing a listing label that may have been modified in the field, and now you question whether or not the product still complies with the applicable standard. UL offers a field evaluation service that provides data to assist you in making your decision whether to accept the product and/or approve the installation. Anyone directly involved with a product – including manufacturers, owners, contractors, and regulatory authorities – can request a Field Evaluation. Detailed information for this program can be found on UL's Web site at www.ul.com/field.